Discussion Starter
·
#1
·
how to put 400ex a arms on your 250ex one way to save you some money:icon_ peace:
things you will need
welder (prefer mig or tig)
cutting torch, plasma, water jet or cnc (i used a cutting torch with a good clean tip)
grinders and cutoff wheels
drill press prefered or if your just awesome with a handheld drill go to it then!
a good measuring tape or ruler
patience and about 4-8 hours of your time
400ex parts needed
upper and lower a arms (durr both sides)
400ex spindles (can be bare spindles)
complete tie rods 400ex
materials needed
3/8x3 flat bar or you can just cut the parts from 3/8 plate
3/8x 3 1/2 grade 8 bolts x8
3/8 nylon spacers 1/4 thick
nuts and washers (I used stainless)
ok here we go.
:macho
now first off the top 400ex arms are to wide at the mounts they need to be cut and rewelded to the width of the 250ex also to keep the correct geometry they need to be welded so the mounts have more toward the inside then the outside (you can plainly see in photos what im talking about)
first remove the seals and bushings from teh 400ex arm mounts, then take your cut off wheel and cut the weld off of the mount
clean everything up so make a good welding surface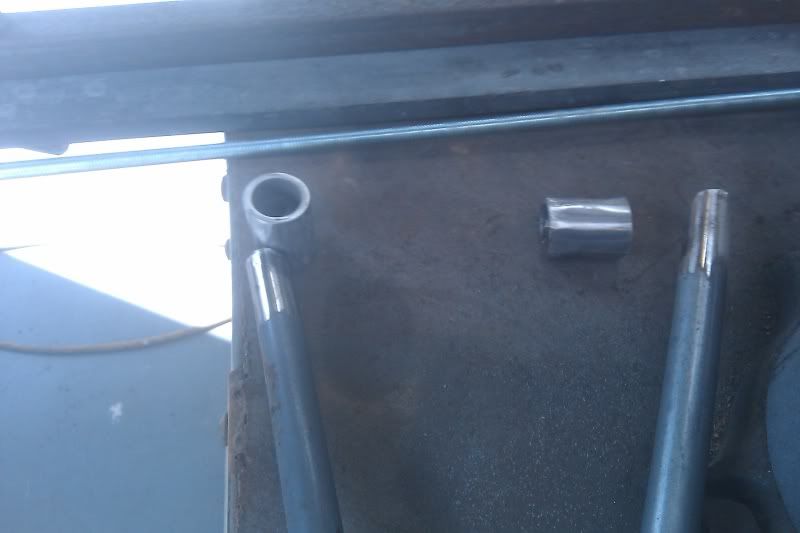 now here you need to be kinda precise I dint post the measurements becouse every machine may have a few variables but take the width of the stock 250ex top a arm mounts from the inside of the outer mount full width and thats how wide you want to make your 400ex arms, also take into consideration the bushings stick out another 1/8 inch but dont make yourself to concerned with that Ill show you why later.
I made a jig of some 1/2 flat bar stock and 1x1 box clamped togetther this made sure the a arm mounts stay flat and measured right, alittle masking take helped out
now with the mounts secure and in the correct measurement tack the a arms on top (this is no problem and they stay lever unless you got some bent arms) also give them a bit of space between the arms and the mount to take the palce of the weld you previously cut off and give enough room for a good penatrating weld
now easy rotate the mounts and tack the bottom